Taking the Uncertainty Out of Online Transactions
Purchasing coins sight-unseen can seem risky. However, taking a few simple steps can significantly reduce your risk and allow you to take advantage of the vast online marketplace. Collectors have purchased coins sight-unseen by mail-order for many years; online purchases have the added advantage of being able to view a picture of the actual coins for sale.
Potential concerns
Dishonest seller making fraudulent charges
Failure of the seller to ship the merchandise (either due to fraud or unintentional factors)
Loss or damage to coins during shipping
Coins graded incorrectly (whether intentional or not)
Strategies to Prevent Problems
eBay allows bidders to view a feedback scores and comments for the seller. This seller's feedback is overwhelmingly positive.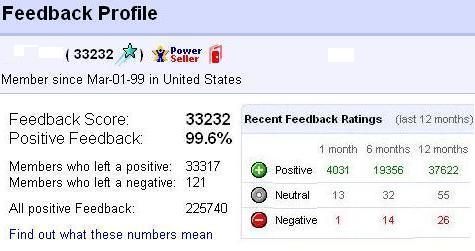 Check Seller's Feedback: For an experienced seller, look for at least 98% positive feedback. For expensive items, buy only from sellers with a long track record of good sales. Read the comments besides any negative feedback. eBay allows a seller to give an explanation for bad feedback - you still may want to bid if the seller has an occasional complaint, provided that it was settled satisfactorily.


Use a credit card and a payment service: If you are paying with a credit card, use an online service like PayPal. PayPal allows you to transfer money to the seller without disclosing your credit card numbers or other sensitive information to that party. Also, some online payment services have dispute resolution procedures in the rare event there is a problem with your order.


Buy certified coins (for high-value coins) - Independent coin certification insures the coins are genuine and have met an independent coin grader's opinion as to grade. Certification is practical mostly for valuable coins. It is particularly beneficial for coins in the higher uncirculated grades, where a small difference can easily double (or halve) the coin's value. Coins serves like Professional Coin Grading Service (PCGS), NGC, and ANACS have been around for years and have gained a reputation for consistency. For lower-value coins and circulated coins, certification is not done frequently both for cost reasons and because the risk of a misgraded coin is lower. Due to the vast supply of uncirculated silver dollars, several coin services have offered low-cost grading for these coins. Therefore, you may find certified Morgan and Peace dollars in the $40 range.

Test the Seller: When ordering from a new seller who has not yet amassed enough feedback, you may make smaller orders first. Limit the purchase amount if you are unsure about the seller and you are buying uncertified coins. You may use the same strategy when buying uncertified coins from a new dealer. Doing so limits your risk, even in a worst-case scenario, to the price of the items.


Shipping Insurance: For valuable purchases, you may buy shipping insurance. Most sellers who frequently ship coins know how to pack coins to prevent damage. However, insurance still may be a good option for valuable coins to avoid the risk of loss or theft during shipping.


Leave Feedback: Be sure to leave feedback once your items arrive. Feedback helps form a record for the seller and provides a guide for future buyers. If you're leaving positive feedback, you don't need to say alot - a few words like "Smooth Transaction" or "Excellent" are enough.

Buying coins online isn't a whole lot different than purchasing them by mail-order. Many of the same strategies work to ensure your order goes smoothly, with the added benefit of the transparency provided by eBay's feedback system.