What happened with 1921 Silver Dollars?
In 1918, Congress passed the Pittman Act, which resulted in the melting of 270 miliion silver dollars to recover silver for subsidiary coinage and the first World War. The silver industry secured a provision requiring the mint to replace all the melted dollars, however. In 1921, the mint began issuing replacent dollars, using the Morgan design that had been used in the last mintage of dollars from 1878 to 1904. To meet the quota, more Morgan dollars were minted in that year than in any previous year. Because of this large mintage, the 1921 Morgan Dollar is a good opportunity for collectors to purchase high-grade coins at affordable prices.
The 1921 Peace Dollar was a first-year issue. They were struck in high-relief, unlkike later years. The 1921 dollars were coined only in late December 1921 so not many were minted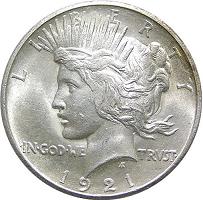 A New Design
Starting in 1918, several individuals called for a new coin design to memorialize the impending end of the first World War. A design compeition was held, with the winner being Anthony Francisci, an artist who had designed several medals and commemorative coins. After a design modification by George Morgan, the mint's chief engraver and designer of the previous silver dollar, the coin went into production in late 1921. The coin was designed to have high-relief; the 1921 coins had to be double-struck to achieve this relief. However, the high-relief was impractical for a mass-produced coin intended for circulation. The double-striking slowed production. The high points of the design were susceptible to knicks and scratches which quickly marred its appearance. To fix these problems, the relief of the coin was reduced for the remaining strikes.
The 1921 Peace Dollar
Unliked its 1921 Morgan counterpart, the 1921 Peace dollars are less numerous than most other dates in the series. The coin was started in late December of that year - the 1921 coins weren't even released until 1922 - so few exist. In addition, the easily marred high-relief surface meant fewer coins survived in the premium grades, like MS-65 or higher. The general preference of some collectors for first-year issues also increases demand, and therefore, price. Nevertheless, the coin is still widely available.
Finding 1921 Silver Dollars
Like other dates in both the Morgan and Peace series, the 1921 coins are available from a variety of vendors. The auction format of eBay works well as many vendors are competing for business. For high-grade coins, buying independently certified coins removes much of the uncertainty in buying coins without first inspecting them.